Penerapan Mesin Teknologi Tepat Guna Penggiling Bumbu Pecel Kapasitas 5 Kg/Jam Bagi UMKM Sambi Kerep Surabaya
Siswadi Siswadi

Universitas Wijaya Putra

Slamet Riyadi

Universitas Wijaya Putra

Wahyu Nugroho

Universitas Wijaya Putra
Keywords:
appropriate technology, pecel spice grinder, capacity 5 kg/hour
Abstract
Indonesia is a tropical country with a very strategic geographical location. Therefore, Indonesia has a variety of delicious culinary delights to serve. Pecel is a culinary dish that has a long history in Indonesian history. Pecel is a favorite food of the Indonesian people, so the number of pieces traders is vast in several areas today. It is making relatively traditional peace seasoning that has inspired researchers to produce appropriate technology products for pecel grinders with a capacity of 5 kg/hour with an electric power of 0.2 kW, which is needed as big as for SMEs in the Sambi Keep area of Surabaya. This TTG machine can increase the amount of pecel seasoning production capacity.
References
G. Tsiompah, R. Murwani, and N. Maharani, "Effects of Cooking Method on the Antioxidant Activity and Inhibition of Lipid Peroxidation of the Javanese Salad 'Pecel' Vegetables and Its Peanut Sauce Dressing," Int. J. Food Sci., vol. 2021, 2021, doi: 10.1155/2021/8814606.
D. H. Praswanto, S. Djiwo, and E. Y. Setyawan, "Perancangan Mesin Penggiling Bumbu Pecel Menggunakan Penggerak Motor Listrik Dengan Metode Reverse Engineering," 2019.
Y. Prastiawati, D. Lestariningsih, and A. Joewono, "Mesin penggiling bumbu pecel otomatis berbasis Arduino," Widya Tek., vol. 17, no. 1, pp. 32–38, Mar. 2019, doi: 10.33508/WT.V17I1.1959.
K. Jati, "Perencanaan Transmisi pada Mesin Penggiling Bumbu Pecel," Aug. 2019.
M. Wahyu et al., "Diseminasi Mesin Penggiling Pada Home Industry Sambel Pecel Dapoer Wima Kediri," J. Pengabdi. pada Masy. Ilmu Pengetah. dan Teknol. Terintegrasi, vol. 6, no. 2, pp. 134–143, Jun. 2022, Accessed: Nov. 12, 2022. [Online]. Available: http://jurnal.polinema.ac.id/index.php/j-indeks/article/view/358.
F. (Franky) Sutrisno, D. (Doni) Ahmadi, B. (Barita) Barita, N. (Nurdiana) Nurdiana, and J. (Jufrizal) Nurdin, "Proses Teknologi Pembuatan Mesin Penggiling dan Pengaduk Bumbu Pecal Kapasitas 30 Kg/jam," Mekanik, vol. 6, no. 1, pp. 10–16, May 2020, Accessed: Nov. 12, 2022. [Online]. Available: https://www.neliti.com/publications/329199/.
B. Wardani, "perencanaan kelistrikan mesin penggiling bumbu pecel otomatis," Aug. 2019.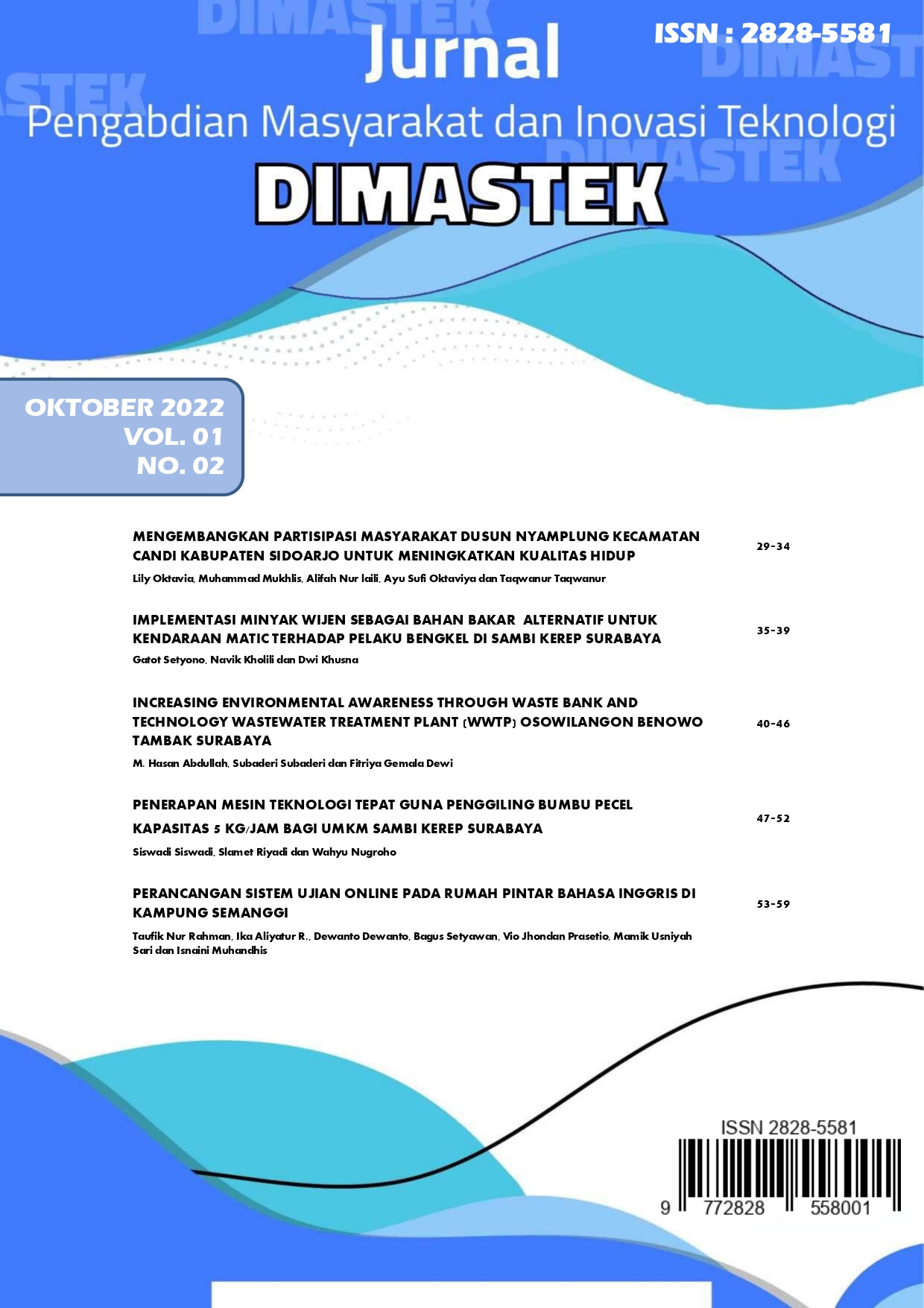 Copyright (c) 2022 DIMASTEK

This work is licensed under a Creative Commons Attribution-NonCommercial 4.0 International License.
Copyright aims to protect the specific way the article has been written to describe an experiment and the results. DIMASTEK is committed to its authors protecting and defending their work and their reputation and takes allegations of infringement, plagiarism, ethical disputes, and fraud very seriously. DIMASTEK is published under the terms of Attribution-NonCommercial 4.0 International (CC BY-NC 4.0). Authors retain the copyright and grant the journal the right of first publication (online) with the work simultaneously. We use the restrictive license (non-commercial) as follows:
BY (attribution): Users are allowed to share, distribute and redistribute the published article in any medium or format, with an identification of the authors and its initial publication in this journal. Authors are encouraged to post and distribute their articles immediately after publication (e.g., institutional or public repositories, personal websites). Authors are allowed to enter into additional contractual arrangements for the non-exclusive distribution of the published and an acknowledgement of its initial publication in this journal.
NC (non-commercial): Users are not allowed to use the article commercially without the permission of the authors. Authors agree explicitly that the published article is indexed worldwide in databases, repositories and indexation services, even if these services operate on a commercial basis. Authors grant DIMASTEK explicitly the right to include the published articles in databases, repositories and indexation services. You can see examples of personal and commercial use on this link.