Perancangan Sistem Ujian Online Pada Rumah Pintar Bahasa Inggris Di Kampung Semanggi
Taufik Nur Rahman

Universitas Wijaya Putra

Ika Aliyatur R. Rofiah

Universitas Wijaya Putra

Dewanto Dewanto

Universitas Wijaya Putra

Bagus Setyawan

Universitas Wijaya Putra

Vio Jhondan Prasetio

Universitas Wijaya Putra

Mamik Usniyah Sari

Universitas Wijaya Putra

Isnaini Muhandhis

Universitas Wijaya Putra
Keywords:
program pengabdian masyarakat, ujian daring, ujian berbasis komputer, efisiensi
Abstract
Kampung Semanggi has an English Smart House that accommodates school-age students. This smart house provides English learning facilities. Based on the results of observations and interviews with the manager, they want a system to be made for online exam activities. This system is not only a necessity during a pandemic, but becomes a breakthrough learning method in the future. Based on this background, we held a service program for designing an online exam system for the English Smart House in Semanggi Village. System development is carried out with the waterfall stage. We use CodeIgniter framework, PHP language and MySQL database in system development. The results of using the online exam system, the exam process becomes easier, faster and more practical. This system helps teachers and students for the efficiency of the exam process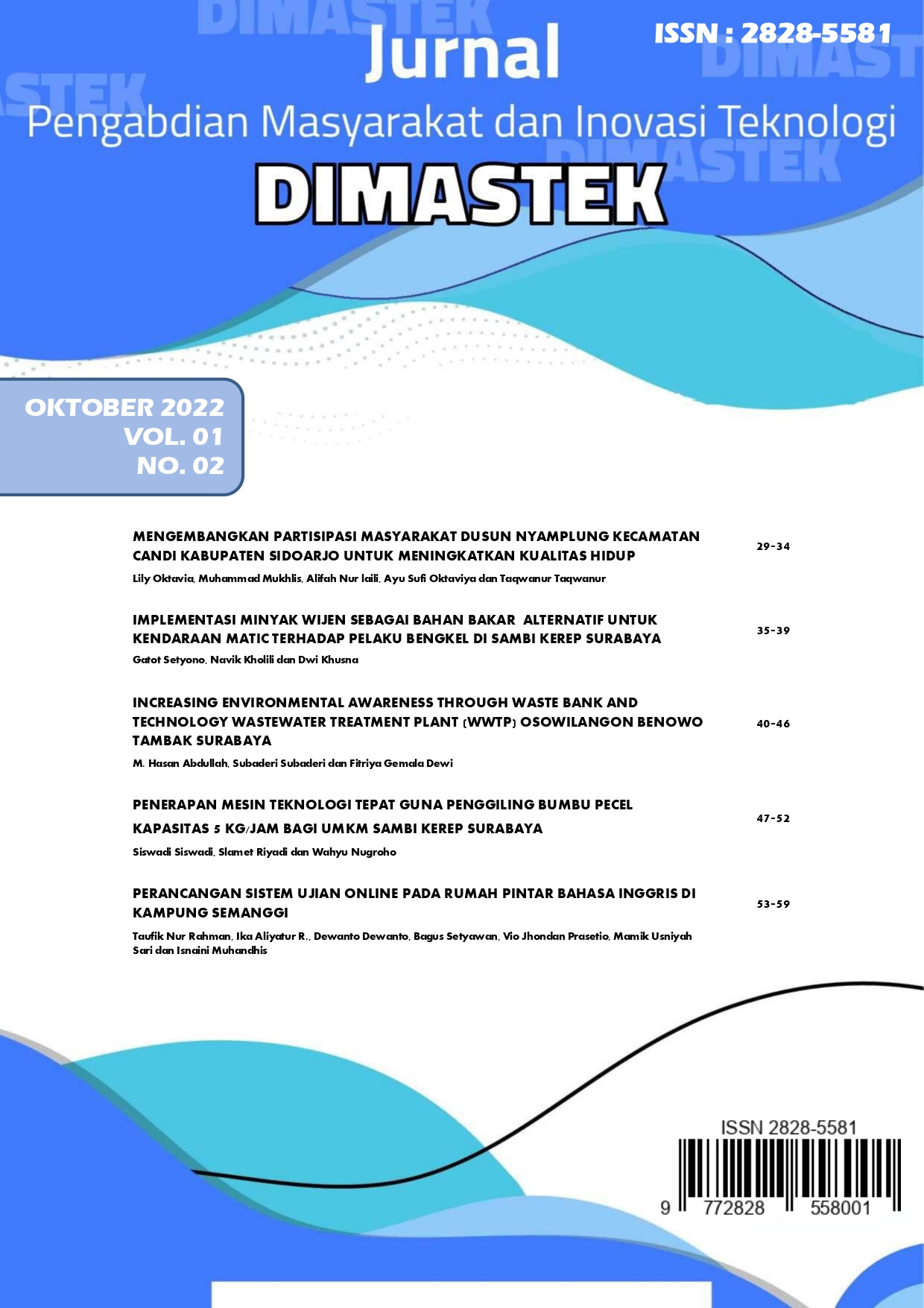 Copyright (c) 2022 DIMASTEK

This work is licensed under a Creative Commons Attribution-NonCommercial 4.0 International License.
Copyright aims to protect the specific way the article has been written to describe an experiment and the results. DIMASTEK is committed to its authors protecting and defending their work and their reputation and takes allegations of infringement, plagiarism, ethical disputes, and fraud very seriously. DIMASTEK is published under the terms of Attribution-NonCommercial 4.0 International (CC BY-NC 4.0). Authors retain the copyright and grant the journal the right of first publication (online) with the work simultaneously. We use the restrictive license (non-commercial) as follows:
BY (attribution): Users are allowed to share, distribute and redistribute the published article in any medium or format, with an identification of the authors and its initial publication in this journal. Authors are encouraged to post and distribute their articles immediately after publication (e.g., institutional or public repositories, personal websites). Authors are allowed to enter into additional contractual arrangements for the non-exclusive distribution of the published and an acknowledgement of its initial publication in this journal.
NC (non-commercial): Users are not allowed to use the article commercially without the permission of the authors. Authors agree explicitly that the published article is indexed worldwide in databases, repositories and indexation services, even if these services operate on a commercial basis. Authors grant DIMASTEK explicitly the right to include the published articles in databases, repositories and indexation services. You can see examples of personal and commercial use on this link.