Pengaruh Model Pembelajaran Di Luar Kelas Terhadap Hasil Belajar Siswa Kelas III Dalam Menulis Laporan Di UPT SDN 177 Gresik
lu'luil muniroh

Universitas Nahdlatul Ulama Surabaya

Syamsul Ghufron

Universitas Nahdlatul Ulama Surabaya

Muhammad Thamrin Hidayat

Universitas Nahdlatul Ulama Surabaya

Suharmono Kasiyun

Universitas Nahdlatul Ulama Surabaya
Abstract
This research is focused on the problem of student learning outcomes of class III UPT SDN 177 Gresik in writing reports that are classified as low by applying the learning model outside the classroom. This research is a quantitative research with a one-group pretest-posttest design method. The population in this study consisted of 27 students, namely 9 males and 18 females. The sample of this study used a full sampling technique. The results obtained are based on the students' increasing average scores and the results of the paired sample t-test. The results of this study proved to increase from the average value of 58,89 students increased to 83,52 and the paired sample t-test test that the value of tcount is greater than ttable (th = 4,825 > tt=1,7033), in other words H1 is accepted and H0 is rejected.
References
Sisdiknas. (2003). Undang-Undang Republik Indonesia Nomor 20 Tahun 2003 tentang Sistem Pendidikan Nasional.
Asiati, Seni. (2018). "Penerapan Strategi Belajar di Luar Kelas (Outdoor Study) Upaya Meningkatkan Kemampuan Menulis Teks Laporan Observasi". Jakarta: Kongres Bahasa Indonesia.
Putra, Sitiatava Rizema. (2013). Desain Belajar Mengajar Kreatif Berbasis Sains. Jogjakarta: Diva Press.
Suharsimi, Arikunto. (2013). Prosedur Penelitian suatu Pendekatan Praktek Edisi Revisi V. Jakarta: PT Rineka Cipta.
Sugiyono. (2016). Metode Penelitian Kuantitatif Kualitatif dan R & B. Bandung: Alfabeta.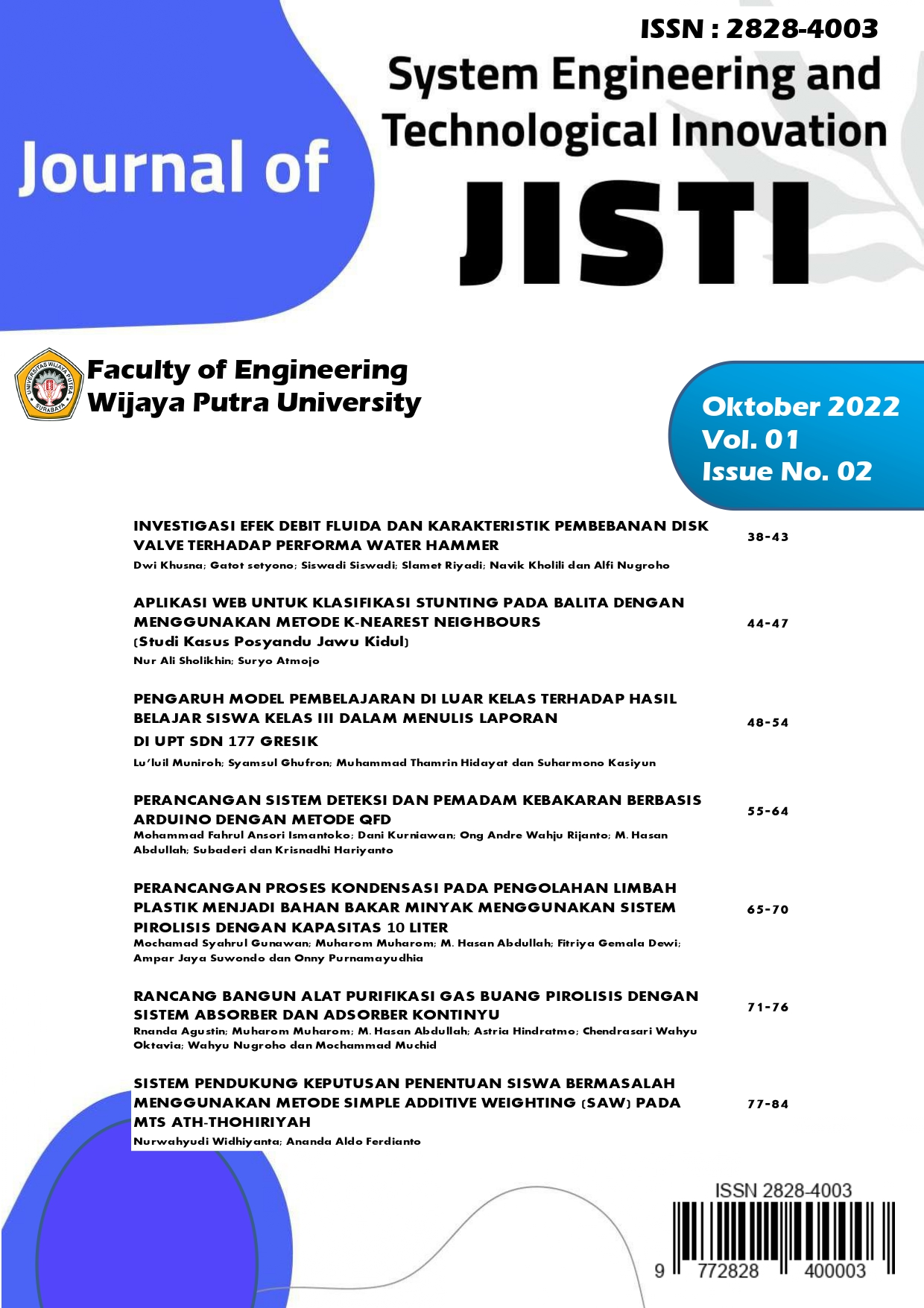 Copyright (c) 2022 JISTI

This work is licensed under a Creative Commons Attribution-NonCommercial 4.0 International License.
Copyright aims to protect the specific way the article has been written to describe an experiment and the results. JISTI is committed to its authors protecting and defending their work and their reputation and takes allegations of infringement, plagiarism, ethical disputes, and fraud very seriously. JISTI is published under the terms of Attribution-NonCommercial 4.0 International (CC BY-NC 4.0). Authors retain the copyright and grant the journal right of first publication (online) with the work simultaneously. We use the restrictive license (non-commercial) as follows:
BY (attribution): Users are allowed to share, distribute and redistribute the published article in any medium or format, with an identification of the authors and its initial publication in this journal. Authors are encouraged to post and distribute their articles immediately after publication (e.g., institutional or public repositories, personal websites). Authors are allowed to enter into additional contractual arrangements for the non-exclusive distribution of the published and an acknowledgement of its initial publication in this journal.
NC (non-commercial): Users are not allowed to use the article commercially without the permission of the authors. Authors agree explicitly that the published article is indexed worldwide in databases, repositories and indexation services, even if these services operate on a commercial basis. Authors grant JISTI explicitly the right to include the published articles in databases, repositories and indexation services. You can see examples of personal and commercial use on this link.