Perancangan Sistem Deteksi Dan Pemadam Kebakaran Berbasis Arduino Dengan Metode QFD
Mohammad Fahrul Ansori Ismantoko

Universitas Wijaya Putra

Dani Kurniawan

Universitas Wijaya Putra

Ong Andre Wahju Rijanto

Universitas Wijaya Putra

M. Hasan Abdullah

Universitas Wijaya Putra

Subaderi Subaderi

Universitas Wijaya Putra

Krisnadhi Hariyanto

Universitas Wijaya Putra
Keywords:
QFD, Arduino, Kebakaran, Bluetooth, Smartphone
Abstract
Dengan banyaknya kasus kebakaran di lingkungan pemukiman padat penduduk di Surabaya, peneliti ingin mencegah dan mengurangi resiko kebakaran dengan mengembangkan sistem dan alat pemadam kebakaran skala rumahan. Sistem dan alat pemadam kebakaran ini dikembangkan dengan metode Quality Function Deployment (QFD). Sistem ini menggunakan mikrokontroler Arduino Uno yang terkoneksi dengan Android melalui bluetooth. Dengan tahapan penelitian menyusun pernyataan misi penelitian, mengumpulkan studi literatur dan observasi lapangan. Melakukan survey dengan menyebar kuisioner kepada 80 responden. Menganalisis Validitas dan Reliabilitas data hasil kuisioner. Kemudian menyusun matriks kebutuhan dan HOQ untuk menentukan target pengembangan produk. Dilanjutkan dengan pembuatan dan pemilihan desain prototipe hingga proses pembuatan prototipe dari desain terpilih. Tahap akhir penelitian dilakukan pengujian fisik, fungsi, dan analisis ekonomi prototipe yang dihasilkan.
References
D. P. Utomo, "347 Kebakaran Terjadi di Surabaya Hingga Agustus, 4 Korban Meninggal," detikNews, 02 September 2021. [Online]. Available: https://news.detik.com/berita-jawa-timur/d-5706418/347-kebakaran-terjadi-di-surabaya-hingga-agustus-4-korban-meninggal. [Accessed 23 Mei 2022].
Y. R. Setiawan and H. Hutapea, "Rancang Bangun Sistem Alarm Kebakaran Terintegrasi Berbasis Arduino," Jurnal Kajian Teknik Elektro, vol. Vol.6 No.1, no. EISSN : 2502-8464, 2021.
S. Riyadi, O. W. Andre and M. H. Abdullah, "Ice Machine Design Es Puter for Small Industries and Household with Quality Function Deployment Methode (QFD)," Industrial Engineering Letter, vol. 3, no. 12, pp. 24-36, 2013.
A. Ristantono, "Rancang Bangun Furniture Desain Kontemporer Dengan Menggunakan Metode Kansei Engineering," Universitas Wijaya Putra, Surabaya, 2019.
R. M. Priyatna and O. A. W. Riyanto, "Perancangan Gateway Sign Ikon Sekolah Wijaya Putra dengan Metode Quality Function Deployment," Journal of System Engineering and Technological Innovation (JISTI), vol. 1, no. 01, pp. 25-32, 2022.
A. Iwan, "Rancangan Pengembangan Furnitur Kontemporer Dengan Menggunakan Metode Analytic Heirarchy Process (Ahp) Dan Quality Function Deployment (QFD)," Universitas Wijaya Putra, Surabaya, 2019.
M. H. Abdullah and A. J. Suwondo, "Evaluasi dan Perbaikan Mutu Layanan Klinik Kesehatan Menggunakan Integrasi Metode AHP-QFD," e-Prosiding SNasTekS, vol. 1, no. 1, pp. 253-266, 2019.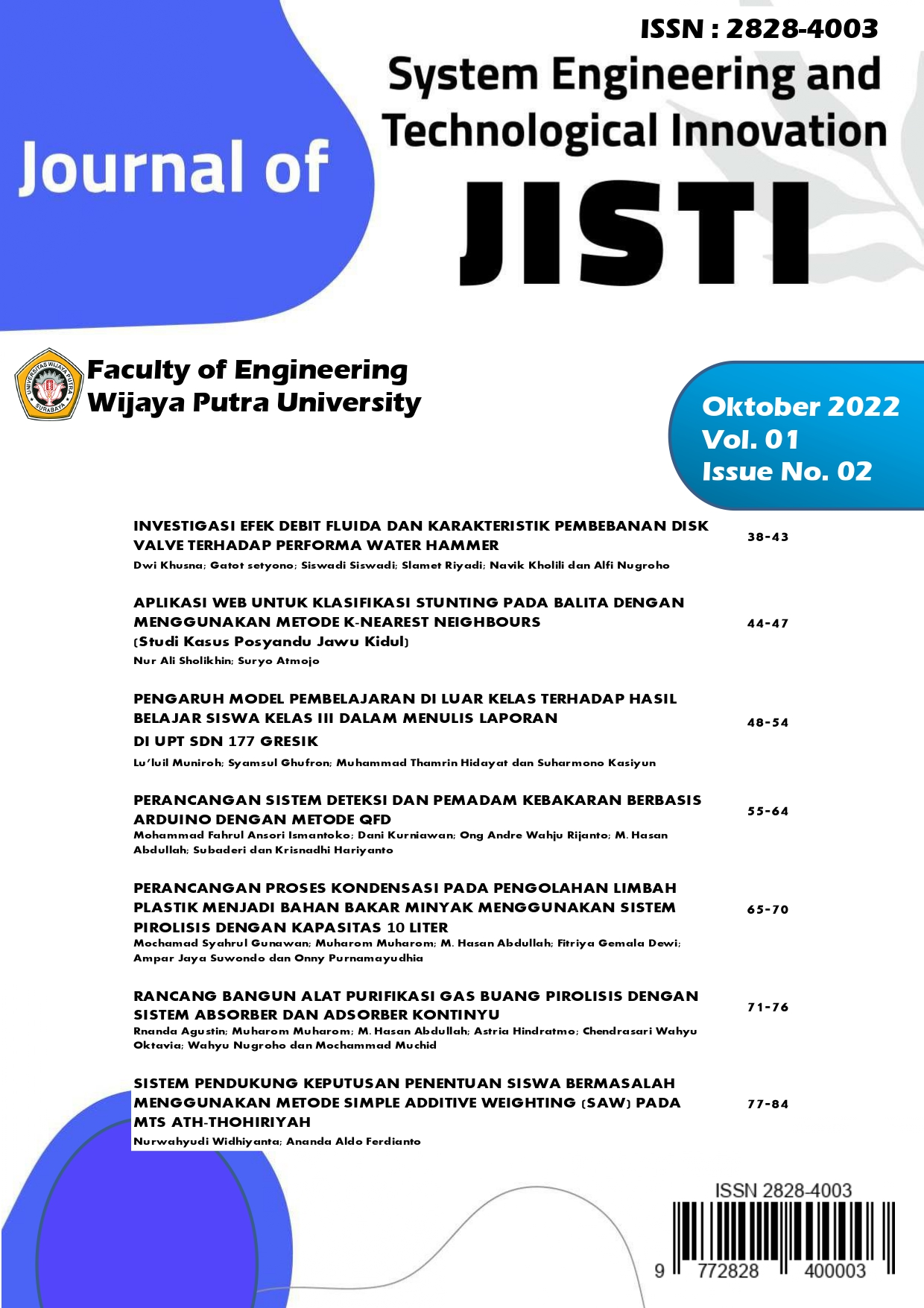 Copyright (c) 2022 JISTI

This work is licensed under a Creative Commons Attribution-NonCommercial 4.0 International License.
Copyright aims to protect the specific way the article has been written to describe an experiment and the results. JISTI is committed to its authors protecting and defending their work and their reputation and takes allegations of infringement, plagiarism, ethical disputes, and fraud very seriously. JISTI is published under the terms of Attribution-NonCommercial 4.0 International (CC BY-NC 4.0). Authors retain the copyright and grant the journal right of first publication (online) with the work simultaneously. We use the restrictive license (non-commercial) as follows:
BY (attribution): Users are allowed to share, distribute and redistribute the published article in any medium or format, with an identification of the authors and its initial publication in this journal. Authors are encouraged to post and distribute their articles immediately after publication (e.g., institutional or public repositories, personal websites). Authors are allowed to enter into additional contractual arrangements for the non-exclusive distribution of the published and an acknowledgement of its initial publication in this journal.
NC (non-commercial): Users are not allowed to use the article commercially without the permission of the authors. Authors agree explicitly that the published article is indexed worldwide in databases, repositories and indexation services, even if these services operate on a commercial basis. Authors grant JISTI explicitly the right to include the published articles in databases, repositories and indexation services. You can see examples of personal and commercial use on this link.