Rancang Bangun Alat Purifikasi Gas Buang Pirolisis Dengan Sistem Absorber Dan Adsorber Kontinyu
Rnanda Agustin

Universitas Wijaya Putra

Muharom Muharom

Universitas Wijaya Putra

M. Hasan Abdullah

Universitas Wijaya Putra

Astria Hindratmo

Universitas Wijaya Putra

Chendrasari Wahyu Oktavia

Universitas Wijaya Putra

Wahyu Nugroho

Universitas Wijaya Putra

Mochammad Muchid

Universitas Wijaya Putra
Keywords:
pirolisis, gas buang, purifikasi, absorben
Abstract
Sampah plastik masih menjadi masalah yang tidak dapat disepelekan sampai saat ini. Banyak upaya yang dilakukan untuk menangani permasalahan tersebut. Hingga saat ini proses pirolisis sampah plastik masih terus diteliti. Pirolisis adalah proses konversi sampah plastic menjadi bahan bakar minyak melalui proses pemanasan pada suhu tinggi tanpa oksigen. Selain menghasilkan minyak, proses pirolisis juga menghasilkan zat padat dan gas buang. Pada gas buang pirolisis masih mengandung CO2 yang tinggi. CO2 merupakan zat pengotor yang dapat menurunkan nilai kalor. Tujuan dari penelitian ini yaitu untuk memaksimalkan proses purifikasi gas buang pirolisis. Proses purifikasi dibagi menjadi dua bagian yaitu absorber dan adsorber. Absorber adalah penyerapan menggunakan zat cair(larutan) sedangkan adsorber adalah penyerapan menggunakan zat padat. Pada penelitian kali, purifikasi menggunakan bahan larutan NaOH sebagai bahan absorber, dan bahan adsorber menggunakan steel wool, zeolit, arang aktif, dan silika gel. Sedangkan untuk proses pirolisis menggunakan plastik jenis LDPE (Low Density Poly Ethylene) yang sudah dicacah.
References
S. Purnavita and T. W. Utami, "Pembuatan Plastik Biodegradable dari Pati Aren dengan Penambahan Aloe Vera," Inovasi Teknik Kimia, vol. 3, no. 2, pp. 31-35, 2018.
A. Novelino, "Sampah Plastik 2021 Naik ke 11,6 Juta Ton, KLHK Sindir Belanja Online," CNN Indonesia, 26 February 2022. [Online]. Available: https://www.cnnindonesia.com/. [Accessed 9 July 2022].
M. Z. Arifin, "Dampak Sampah Plastik Bagi Ekosistem Laut," Buletin Matric, vol. 14, no. 1, p. 44–48, 2017.
R. A. A. Gunadi, D. P. Parlindungan, A. Utami and P. Santi, "Bahaya Plastik bagi Kesehatan dan Lingkungan," in Seminar Nasional Pengabdian Masyarakat , Jember, 2020.
V. N. Setiawan, " Bahan Bakar Fosil Menipis, ESDM Dorong Transisi Energi," katadata.co.id, 21 October 2020. [Online]. Available: https://katadata.co.id/. [Accessed 9 July 2022].
J. Wahyudi, H. T. Prayitno and A. Dwi, "The Utilization of Plastic Waste As Raw Material for Producing Alternative Fuel," Jurnal Litbang, vol. XIV , no. 1, pp. 58-67, 2018.
Nuryosuwito, "Pengaruh Campuran Sampah Plastik dengan Katalis Alam terhadap Hasil Produk Pyrolisis," Jurnal Rekayasa Mesin, vol. 9, no. 2, pp. 85-91, 2018.
S. Sukadi and N. Novarini, " Rancang Bangun Alat Pirolisis Untuk Daur Ulang Sampah Kantong Plastik," TEKNIKA, vol. 5, no. 2, pp. 86-96, 2019.
A. Mokhtar, M. Jufri and H. Supriyanto, "Perancangan Pirolisis Untuk Membuat Bahan Bakar Cair Dari Limbah Plastik Kapasitas 10 KG," in Seminar Nasional Teknologi dan Rekayasa (SENTRA), Malang , 2018.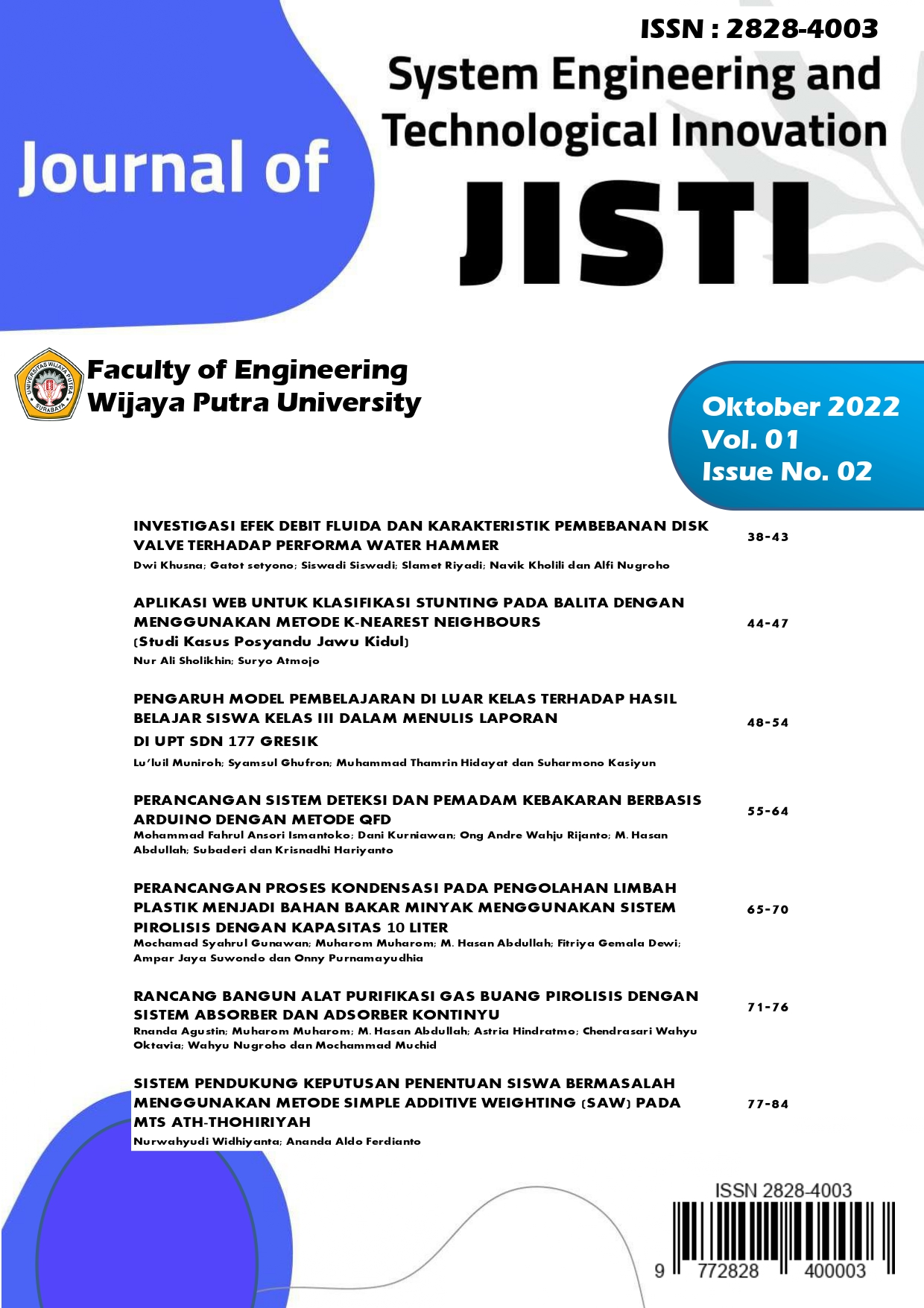 Copyright (c) 2022 Journal of System Engineering and Technological Innovation (JISTI)
This work is licensed under a Creative Commons Attribution-NonCommercial-NoDerivatives 4.0 International License.
Copyright (c) 2022 JISTI

This work is licensed under a Creative Commons Attribution-NonCommercial 4.0 International License.
Copyright aims to protect the specific way the article has been written to describe an experiment and the results. JISTI is committed to its authors protecting and defending their work and their reputation and takes allegations of infringement, plagiarism, ethical disputes, and fraud very seriously. JISTI is published under the terms of Attribution-NonCommercial 4.0 International (CC BY-NC 4.0). Authors retain the copyright and grant the journal right of first publication (online) with the work simultaneously. We use the restrictive license (non-commercial) as follows:
BY (attribution): Users are allowed to share, distribute and redistribute the published article in any medium or format, with an identification of the authors and its initial publication in this journal. Authors are encouraged to post and distribute their articles immediately after publication (e.g., institutional or public repositories, personal websites). Authors are allowed to enter into additional contractual arrangements for the non-exclusive distribution of the published and an acknowledgement of its initial publication in this journal.
NC (non-commercial): Users are not allowed to use the article commercially without the permission of the authors. Authors agree explicitly that the published article is indexed worldwide in databases, repositories and indexation services, even if these services operate on a commercial basis. Authors grant JISTI explicitly the right to include the published articles in databases, repositories and indexation services. You can see examples of personal and commercial use on this link.